Three Days Grace
Three Days Grace balance moments of extreme emotion on an axis of pummeling hard rock anthems and pensive balladry. Along the way, the Juno Award-nominated multiplatinum record-breaking Ontario, Canada quartet have amassed billions of streams and millions of album sales, sold out arenas on multiple continents, and reached unprecedented heights, earning a staggering 17 total #1 entries on the Mediabase Active Rock Chart and sharing the record for "Most #1 singles on the Billboard Mainstream Rock Songs Chart" with 16. In the wake of 2018's Outsider, they picked up "Rock Artist of the Year" at the iHeartRadio Music Awards and "Rock Songwriters of the Year" for the single "The Mountain" at the SOCAN Awards. The album garnered nods for "Album of the Year" and "Rock Album of the Year" at the 2019 Juno Awards. Three years prior, 2015's Human housed the gold-selling "I Am Machine" and "Painkiller." Achieving dozens of gold and platinum certifications worldwide, their catalog comprises the double-platinum Three Days Grace [2003], triple-platinum One-X [2006], gold-certified Life Starts Now [2009], and epic Transit of Venus [2012]. As "one of the most-streamed rock bands in the world," they impressively attract over 8 million monthly listeners on Spotify.
Wage War
Through an unwavering dedication to progression, Wage War sharpen their patented hybrid of heavy pit-starting technicality and hummable hypnotic melodies with each subsequent evolution. Look no further than the aptly titled third full-length from the Florida quintet, Pressure [Fearless Records]. The band—Briton Bond [lead vocals], Cody Quistad [rhythm guitar, clean vocals], Seth Blake [lead guitar], Chris Gaylord [bass], and Stephen Kluesener [drums]—drove themselves to fully realize their ambition by pushing harder. A whirlwind four years set the foundation for such a statement. The group's 2015 debut, Blueprints, yielded multiple fan favorites with "Alive" cracking 12 million Spotify streams and "The River" exceeding 8 million to date. Meanwhile, 2017's Deadweight established the boys as a rising force. Totaling nearly 50 million cumulative streams in two years, the single "Stitch" racked up 14 million streams on Spotify as Deadweight received widespread praise from MetalInjection, New Noise, Metal Hammer, and Rock Sound who dubbed it, "a relentless, genre-evolving treat."
Zero 9:36
A rapper, singer, and musician with an aggressive style and an angry world view, Zero 9:36 rose from a cult figure in the Philadelphia hip-hop community to an alternative artist with a nationwide following by the time he was 22. Under the name Zero, his machine-gun delivery and caustic verses made him a talent to watch with his 2016 mixtape Paradise Campground. By 2019, he'd changed his handle to Zero 9:36 and combined rapping and singing as guitars and electronics took on a bigger place in his arrangements on the 2019 EP You Will Not Be Saved.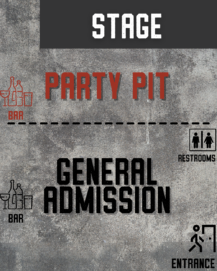 Three Days Grace has partnered with PLUS1 so that $1 of every ticket will go to support tornado recovery efforts in Mayfield, Kentucky. PLUS1 is a leading 501(c)(3) charity that mobilizes cultural leaders to bring visibility, awareness and funding for social and environmental justice. For more information on how the proceeds are being used, please contact PLUS1 (EIN 46-4556468) at hello@plus1.org.  For information related to your VIP package, please contact 3DGvip@superfan.live.