Badflower
Badflower with special guests Goodbye June & Alborn
The Rust Belt and I-Rock present: Badflower with special guest Goodbye June & Alborn in a socially distanced concert.
Badflower
Badflower don't care what you think about them. They don't care whether you get what they're doing, because their thoroughly modern rock is more ahead of the curve than anyone else you might try and pigeonhole them with. And they really don't care whether you like the messages in their songs, because what they sing about is important, if uncomfortable.
That attitude might seem misguided for a band who have yet to release their debut album. In this age where music's money comes largely from touring, fans are more important than ever – they're the ones who buy the tickets to shows and ultimately give artists the opportunity to keep playing and progressing. But the LA four-piece aren't complete beginners – since forming in 2013, frontman Josh Katz, guitarist Joey Morrow, drummer Anthony Sonetti, and bassist Alex Espiritu have toured relentlessly across the US and beyond, building up a reputation as a formidable live force as well as an ever-growing mass of loyal followers and praise from the likes of Billboard, Forbes, and Consequence Of Sound.
Though the band credit their years of gigging with giving them the life experience to write their debut album, 'OK, I'M SICK', it's also had its downsides, especially for Katz. The singer and guitarist suffers from anxiety and panic disorder – something that he's had to learn how to cope with on the road. "I once ran off stage mid-song and just had to take a beat and was very confused," he says, offering an example of how the problem can affect him. "I wasn't sure if I should be throwing up or sitting down. Typically, it's just clenching every muscle in my body until it hopefully goes away. I can barely stand up, barely get notes out. It's all of these feelings at once."
It's that problem that inspired 'Ghost', the band's big breakthrough single. After coming home from tour, Katz was so fed up with what he had to go through to get on stage every night, he was in two minds whether to carry on with music. "If I'm miserable every night, why am I doing it?" he asked himself. It was that song, which reached the top of the US charts, that saved Badflower.
Despite its success, the group was initially sceptical about it being more than an album track. In its often graphic lyrics, Katz plays out a dark, suicidal fantasy – "This life is overwhelming and I'm ready for the next one," he sighs resignedly at one point. They worried listeners would think they were glorifying suicide, cynically using a very real and serious problem for their own gain. "But people got it immediately and we realised how many people are affected by depression, panic disorder, and anxiety issues," Katz explains. "You hear about it all the time, you see it on every commercial – there's some anti-depressant being sold to you because everybody has these issues – but people don't like to talk about it that much."
Goodbye June
Fusing hard rock licks with deep South blues and gospel swing, the three cousins (namely Landon Milbourn [vocals], Brandon Qualkenbush [rhythm guitar, backing vocals] and Tyler Baker [lead guitar]) are fuelled by their desire to craft timeless, catchy and anthemic rock songs. The band formed after the death of Tyler's brother in June (hence the band name), vowing to honour his memory with their soulful and life-affirming sound.
In the wake of their 2017 full-length debut Magic Valley, the boys earned the endorsement of Rolling Stone, contributed "Liberty Mother" to a high-profile Budweiser TV campaign as well as a WWE theme song, packing shows across the United States and Europe, racking up 50 million-plus Spotify streams in the process. After notching placements on ESPN, NFL, NHL, Need for Speed, and Madden (EA), the three-piece is forging ahead with their first full-length album on Earache Records entitled 'Community Inn'.
Alborn
"ALBORN RULES!" This is a common war cry heard at any midwestern Alborn show. The band's fanbase is strong, travels relentlessly and grows with every performance.
Formed in 2016, Northern Illinois based alternative metal band Alborn consists of Justin Taylor [guitar/vocals], Alex Raser [Drums/vocals], Zame Lewis [bass] and Nate Guske [guitar]. Their sound has been compared to Deftones or a heavier version of Alice in Chains. But, make no mistake, Alborn has created something unique, hard and melodic.
As a startup, Alborn existed as a cover band under the name of "Alborn Theory". But that's not who they wanted to be. So they shortened the name to "Alborn" and got to work. As part of that work, the band spent late 2018 tracking 10 original songs with Morgan Rose [Sevendust] & Jose Urquiza [3 Years Hollow] and started playing every live show they could.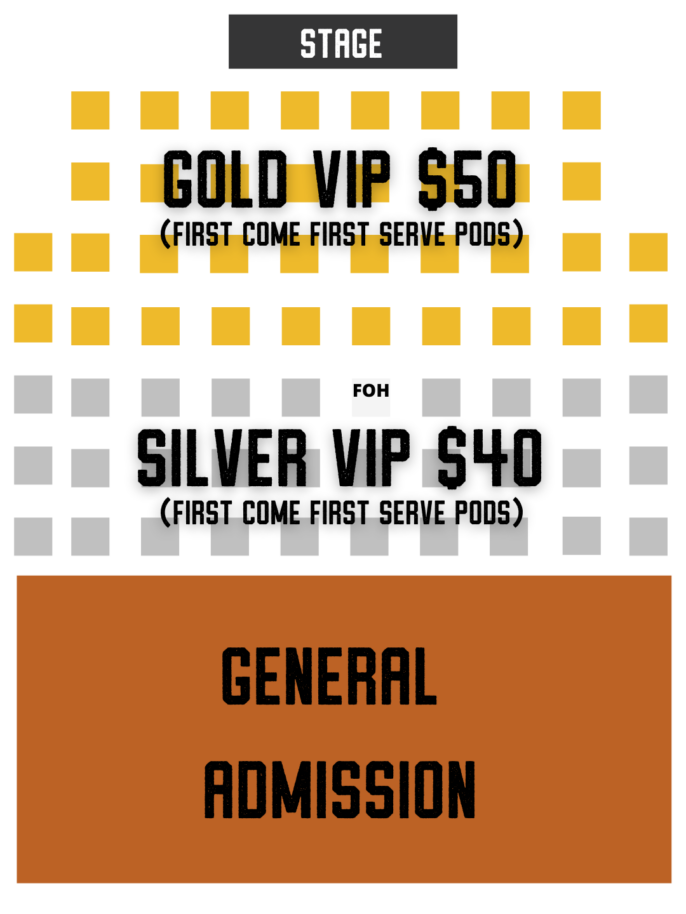 Every aspect of the event is designed to follow the recommended social distancing and safety guidelines.
The Gold & Silver sections will have first come first serve pods designed to fit up to six people.

Each pod is at least 6 feet apart from another pod.

Facial masks or coverings will be required for entry, while waiting for entry, exit, and to move about the common areas. Facial masks or coverings are strongly recommended but not required when attendees are in their seating pods.

Attendees should be asymptomatic for at least 14 days prior to attending the event in person. Anyone feeling unwell or experiencing symptoms such as but not limited to fever, cough, or shortness of breath should stay home. Anyone who has been in contact with someone who has been experiencing these symptoms in the last two weeks should also stay home.

By purchasing a ticket to this event, audience members are agreeing to adhere to these health and safety precautions. Those who choose to ignore these health and safety measures will be removed from the event.
Safety Precautions
We take the coronavirus disease (COVID-19) pandemic seriously. We have identified reasonably foreseeable health risks and have steps to mitigate them.This guideline will be enforced and has been constructed from the CDC, World Health Organization, OSHA, IATSE, and Event Safety Alliance recommendations.

While there is no guarantee of an illness-free event, it is indisputable that planning, training, and implementing reasonable health and safety measures are the best ways to protect this live event and the people who create it.

We will follow any city, county or state guidelines or laws that pertain to COVID-19 response. In addition to any local requirements, we will implement and enforce various practices ourselves.

Oversight and leadership are critical to assure that all work in the context of the COVID-19 pandemic can be done with maximum possible protections to prevent members from being infected with the disease. The written COVID Safety Plan must specify clear leadership and assign responsibility for oversight and implementation of all elements.

We ask that all guests wear masks or face coverings when not in their pod.

Multiple entrances and exits will be used to discourage crowded waiting areas.

Safe social distancing will be strictly enforced during arrival and in lines for vendors and the restrooms.